September 2, 2008
Cruel Intentions – Cologne to $$$ to.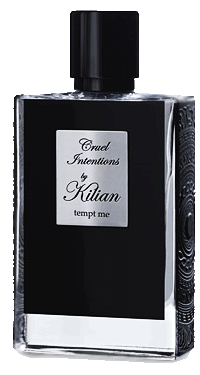 With the niche experiment winding down I'm hitting the second of three by Kilian Hennessy, Cruel Intentions, and this one was recommended explicitly for me out of not only the Kilian line but all of perfumery, by the Basenotes crew. Well, how am I supposed to not sample it when you get a recommendation like that?
Now, I've been wearing these fragrances to work, all of them, even the sugary-sweet concoction known as A Taste of Heaven. I wore Cruel Intentions two days ago on Sunday, hoping to see why it was recommended so highly. Still in high spirits from the job situation I elaborated on a few days ago, I entered work with a level of confidence and high spirits that I haven't had in weeks (months?). I was more relaxed, smiling more, taking a deeper interest in customer issues. And Cruel Intentions was almost transparent, and this is where it's gonna get hard to explain. I definitely smell it, a sort of refreshing mint gourmand that I've gotta describe as the olfactory equivalent of having a word on the tip of your tongue. It was so familiar to me, but yet so fleeting. That Sunday ended up being the busiest Sunday I think I've ever worked with the possible exception of the weekend after Christmas. I mean absolutely slammed to the point that even taking a lunch break was entirely out of the question.
But there was something strange; anything I tried to sell, the customer was buying. They just would not say no and I racked up sales (and commissions) all day long. By the end of the day I exceeded my typical commission payout by a mind-blowing 1,000%. I did better in one day than I typically do in the course of an entire good week. On the downside, we were so busy that I never had the chance to really see how Cruel Intentions was developing. But obviously something was working!
I am not normally a superstitious person but when you have a day that good, you want to repeat it. I was in the same time the next day (yesterday) and I wore the exact same clothes, including socks and (yup) underwear, followed the exact same morning routine, and of course wore Cruel Intentions for the second day in a row.
And I exceeded my sales and commissions from the first day in the first two hours I was there.
I don't want to startle anybody, but by the end of the second day wearing Cruel Intentions I'd made two weeks worth of pay in commissions alone (not to mention eight hours of time and a half $$$). Part of the reason I had a hard time describing Cruel Intentions is that it meshes perfectly with my skin, it's the best interaction with my natural chemistry I've ever had in a fragrance. The Basenotes guys got this one absolutely right, this is me bottled. An essence of personality. Rose, vetiver, styrax, pure castoreum, violet, sandalwood, and more make this thing a paradox in a bottle and, dare I say it? It takes a place alongside Aramis Havana in that most coveted clique, the Holy Grails. Let that sink in, as much as I'm a fan of such amazing creations as Hermessence Vetiver Tonka, Amouage Jubilation XXV, CdG Palisander…I'm putting Cruel Intentions at the top of the top with only one other bottle.
I am not promoting this as a universally lovable scent, it's still very mysterious to me but an amazing ride, and if you haven't had the opportunity to try it, Luckyscent will provide 1mL samples for $4, not a bad deal considering it's actually cheaper than buying a bottle if you bought a bunch that way. It is highly expensive at $245 for a 50mL bottle. Looking at Kilian's website I thought I spotted a typo (missing decimal) but I was damn wrong, who wouldn't want to buy a 34 ounce, 1 LITER fountain of this stuff for a mere $2,900?
Try it. Do it for yourself. Do it for the $$$. Oh, and today I didn't wear it and I didn't sell a damn thing.