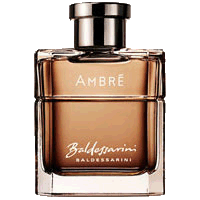 While I'll be the first to admit that for the most part Hugo Boss offerings haven't done much for me (I'll also admit my experience with them is pretty limited), I have yet to find a fragrance in their Baldessarini line that I didn't like. The original Baldessarini (which will be reviewed in the future) was my first experience with fir and pine in a fragrance and is probably partly responsible for my affinity for the notes. Baldessarini Del Mar I just recently tracked down and I have to say it's quite pleasant. To me, though, it's their latest offering, Baldessarini Ambré, that is best described as a home run.
It's got a ton of good qualities, starting with the bottle itself, it's nice and simple, understated but elegantly cut. The juice is a pleasant amber color as well. The opening blast is great, one of my favorites. It's surprisingly unique for an Amber fragrance, with the dominant notes for most of the progression being a sweet whiskey and apple combination. Seriously how often do you see those two notes at all, much less together? I don't have anything to really compare it to, so you'll have to use your imagination. It's very rich, and projects very well. Something about the composition leaves it obviously masculine despite the sweetness, and despite that I don't wear it as much as I should, Baldessarini Ambré is easily my most consistent compliment getter. Every single time I wear it (including today) I get positive reactions from those around me.
The progression is slow but consistent, the whiskey/apple combo fades out and the amber fades in, but by the time it's completely dried down (some 5 to 6 hours) the amber is still tinged with that boozy accord. Really a well-done amber scent, especially for the money. Baldessarini Ambré apparently hasn't sold too well, and you can occasionally find it at TJ Maxx or Marshall's for $20 for a 50mL bottle. Or, you can do what I did, and get it on eBay. It's on there all the time, and you can make some positive steals, such as $9 shipped. Which is what I managed. So there's something to shoot for, right?
Is it a good intro to Amber fragrances? Probably not, it's not as blatant about the amber note as some other fragrances, but again for the money it's a great addition to a wardrobe because it's just so unique. Amber is one of those notes that, once you start getting into perfumery, is ubiquitous; everybody has an amber fragrance. Some are simple, some are complex, some are anything but amber. And some are truly unique, like this one. Go try it, or if you find a steal on eBay, buy it blind; I think you'll be pleasantly surprised.